Courts recognize that in executing a warrant, officers must, on occasion, damage property in order to perform their duties. The U.S. Supreme Court noted that a reasonable suspicion of exigent circumstances warrants entry by police officers to execute a search warrant, even if forced entry is required, which may result in damages to the premises. (U.S. v. Banks, 540 U.S. 31, 124 S. Ct. 521, 157 L. Ed. 2d 343 (2003))

However, if the amount of damage to a target's property is excessive or results from malicious intent, constitutional and other claims may arise. Door breaching is a process used by military, police, or emergency services to force open closed and/or locked doors. The need for forced entry is obvious to anyone with any patrol experience at all. To use a Door Ram effectively, you have to be trained.

We all know that getting in the door quickly is paramount to a successful operation. A wide range of methods are available, one or more of which may be used in any given situation. The door ram has shown to cause the least amount of damage.

Breaching doors with a CMC Door Ram is not about the biggest strongest guy swinging the ram. Rather it is about properly swinging the ram and letting physics do the work, which is kinetic energy at its best. You should have the proper weight ram for the breacher.

The CMC Door Ram is made with the same craftsmanship and quality as the BurnSafe and GasRam. It has a removeable back that will allow for the increase in the weight of the ram for two person operation or a one person operation when the officer is larger and heavier.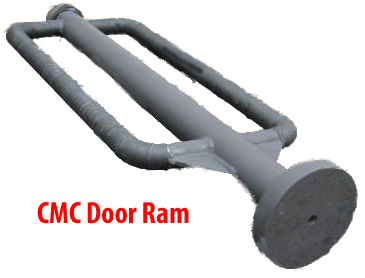 Current Price: $449.00 plus shipping and handling ($75.00)
(Call for shipping outside California)
Please e-mail for additional information.
The CMC Door Ram is designed for Law Enforcement and Fire agencies. It will not only force doors, but can breach stucco or brick façade walls. Made in the U.S.A. of the highest quality materials and backed by CMC's unlimited lifetime warranty.
Easy to carry and swing
Non-slip insulating grip
One or two person operation
Ram is 24" long and weighs 35 lbs.
Weight distribution keeps ram balanced for easy transport.
Removable Rear Cap
Hollow Fillable Body to add weight increasing kinetic impact.
Black Protective Coating
100% steel construction (no concrete fillers) for unrivaled durability that withstands extreme heat.
SHOULD BE USED BY TRAINED PERSONNEL ONLY