The X-Stream is a two-bottle OC (pepper spray) compressed air powered ejector weapon designed for use during large disturbances. The two bottles are a breathing air pressure bottle and a chemical storage bottle. The backpack connects to a hand-held spray nozzle via a very flexible two-hose high pressure hose system.

The X-Stream uses Optimum Pressure Technology (OPT)™ to generate micron-sized fog particles. The pepper spray fog is very effective for controlling combative behavior, stopping disturbances in seconds and reducing the possibility of injuries. The X-Stream contains more than 200 chemical shots yet weighs less than 25 pounds filled and charged.

To see the entire Hydro-Force catalog click here.
Pricing
| | |
| --- | --- |
| Quanity | Price |
| 1-5 | $ 1,500.00 |
| 6-10 | $ 1,425.00 |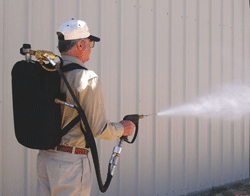 What is OPT™?
Optimum Pressure Technology™ is the result of years of research and working with customers. Original hand-held pepper spray devices used low pressure canisters, producing a single stream. OPT™ uses high pressure (550-650 psa) to produce a long-range wide-angle fog that can reach up to 45-60 feet; yet the device is easy to fill and operate.