The PepperJet from Hydro Force is a high pressure OC or pepper spray weapon specifically designed for control of large groups or combatants in hard-to-reach locations. PepperJet takes an earlier idea for a tear gas sprayer and adds the features requested by our customers. These include:
Optimum Pressure Technology™ (OPT™). The PepperJet uses 550 pounds per square inch pressurized carbon dioxide gas to propel pepper spray chemicals up to 60 feet.
Food Grade Chemicals. The PepperJet uses only FDA-approved ingredients.
15-degree Angle. A built-in 15-degree angle between the bottle and nozzle ensures complete chemical delivery even when level shooting.
Double Transportation Lock. PepperJet has two locks to prevent inadvertent firing. A lock pin with safety chain is inserted for transportation and storage. A thumb-operated safety latch is operated when firing.
Aluminum Bottle. Lighter weight and rust free.
Easy Filling. PepperJet uses a modem threaded fitting with 0-ring gasket. The PepperJet is so easy to fill that many customers fill the bottles right in the field.
Field Repairable. End wrenches and a screwdriver are all that are needed for most field repairs.
No More Hose Clamps. The PepperJet uses adjustable brackets with quick-release pull pins.
Easy Pressure Recertification. PepperJet bottles are U.S. made and are easily cleansed and recertified through the factory or at several U.S. locations.
For complete Hydro Force product listings click here.
Pricing
| | |
| --- | --- |
| Quanity | Price |
| 1 - 5 | $824.00 |
| 6 - 10 | $782.00 |
| 11-up | $741.00 |
For more information please contact us.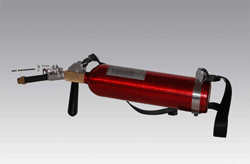 PepperJet Adapter
This adapter is required to fill the PepperJet when using the quick release hose in the filling kit.
| | |
| --- | --- |
| Quanity | Price |
| 1-3 | $62.21 |
| 4+ | $55.01 |
PepperJet Extension Hose
Length = 6 feet
| | |
| --- | --- |
| Quanity | Price |
| 1-3 | $129.21 |
| 4+ | $116.97 |